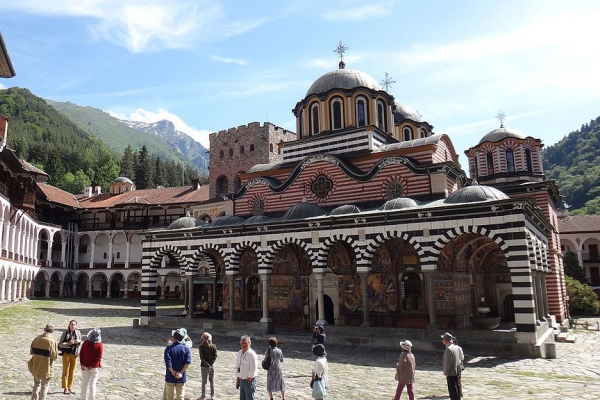 The Hotel provides own transport and organizes visits to adjacent archaeological and historical sights. If you long for real vacation speeding your adrenaline and full of adventures, you may enjoy
hunting and fishing, riding, excursions for professionals and picnics for nature admirers, eco paths, photo safari, off road and rafting.
Tours in Bansko:
Sveta Troitsa Church, Uspenie Bogorodichno Church, Nikola Vaptsarov Museum House, Neofit Rilski Museum House, Velyanova House and the Arts School of Bansko permanent icon exhibition.
Excursions and passages in the Pirin Mountains:
-Place of Paligovden – Paligovden Church
-Place of Sveti Ivan
-Place of Chalin Valog
-Place of Shiligarnika
-Climbing Vihren Peak /2 914 m/, the highest one in the Pirin Mountains
-Koncheto Marble Ridge, offering a magnificent view to the Dry Valley of Bansko deep circus, the Valley of Razlog and the Rila Mountains
-Popovo Lake (Papazgyol)
-Vihren Mountain Hostel and Okoto Lake
-Baykusheva white fir
-Yulen Natural Reserve /3 156 hectares/
Excursions in the region:
-Dobrinishte – mineral water springs, private edelweiss garden, the Ethnographic Museum (former Ivan Kozarev Museum House) and the Place of Bezbog
-Dobarsko – Sveti Sveti Teodor Tiron and Teodor Stratilat Church dating back to 1122 and protected by UNESCO, showing the unique image of Jesus Christ in a rocket that did not exist at that time and Sretenie Gospodne Church
-Blagoevgrad – Varosha Complex, Vavedenie Bogorodichno Church dating back to 1844, the Historical Museum and Georgi Izmirliev Museum House
-Monastery of Rila – located at 40 km away from Blagoevgrad
-Gotse Delchev – cultural and historical ensembles and complexes, the Historical Museum and private breeding pools offering fishing
-Ognyanovo – the famous healing mineral water baths
-Kovachevitsa – Cultural and Historical Reserve of national and international importance and Sveti Nikola Church
-Hadzidimovo – Monastery of Sveti Velikomachenik Georgi cultural monument availing with the wonder-working icon of Sveti Georgi dating back to 1750-1800
-Garmen – the antique and ancient city of Nikopolis ad Nestorum founded by Trayan I, a Roman imperator
Place of Popovi Livadi (Papazchair)
-Sandanski – the mineral water springs, town park, Sv. Sv. Bezsrebarnitsi & Chudotvortsi Kozma & Damyan Monastery Church, the antique and late antique town and the Archaeological Museum
-Melnik – unique nature and architecture and excellent wines – the Pyramids of Melnik, Slavova Fortress, Boyar House, Sveta Bogoroditsa Spileotesa Monastery, Sveti Nikola Bishop Church, Sveti Nikolay Chudotvorets Church and Kordopulova House
-Monastery of Rozhen – preserved authentic architecture and monument paintings – the biggest cultural centre in the Pirin Region